If you have a big event coming up, you want to choose the right carnival games.  Everyone wants something new and unique.  But the original rides are still as popular as ever.   Flying rides are always fun and a great to a attract thrill seekers. There are always those folks who want to show off that they are fearless and who are so hard to please. Then there is he humble majority who would like to act like they are fearless but need to feel like they are safe nevertheless. Carnival goers are not as easily pleased as they used to be. It takes something extra to make it all come together. At Circus Time Amusements, we've got everything you could possibly need.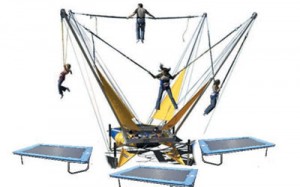 You've probably only seen those hanging, bouncy contraptions with bungee cords in a few places.  Not many party rental companies in New Jersey have them available.   The Euro Bungee Ride is still fairly new to most people and it will be an exciting addition to any carnival gathering in 2014. This unique ride is sure to please every type of rider who could show up. Riders are suspended by bungee jumping cords. The fearful can dangle, while the fearless can flip, twist and bounce again and again off the trampoline below. A good bounce will let you soar 25 feet up into the air! Who says an ordinary carnival can't have bungee jumping? With Circus Time, you can.
There will be no need to settle for less for any New Jersey area party when you choose Circus Time. New additions to our selection of rides and entertainment include log rolling as part of an entire Red Neck Games package. Extreme skateboarding and surfing rides will be available which don't take up much space but will provide the thrills and challenges of the best bowls, be they bowls of snow in the mountains or cement bowls where skateboarders shred, or extreme waves right in a ride pool!
Circus Time Amusements makes sure you are the only focus. Many times, companies have a tough time picking a party theme that can please everyone. Circus Time works with you to build the perfect carnival of rides and entertainment that will let everyone enjoy themselves. When you choose Circus Time for a carnival, you are our only client for that event. The focus is on you. Enjoy all of our newest rides without the headaches, the constraints or the expenses of crowded amusement parks where there is no personal touch and nothing special that you'll remember. Circus Time makes your time a time for fun!