Your child is having a birthday party, and you and your husband have decided to have a party at home this year.   You are going to have a clown, a cotton candy machine, face painting, and but to make it really fun for the kids, you have decided to rent an inflatable bounce house. There are many companies to choose from when it comes to inflatable rentals, but Circus Time is one of the best companies in New Jersey, and there are many reasons why this inflatable NJ rental company should be chosen.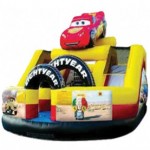 The length of time in business: Circus Time has been in business for over 20 years, which means that they must offer something more than the standard type of service.  As one of the first and best amusement rental company in the tri-state area, they have proven again and again to have what it takes for a safe, fun experience.
Insurance:  Insurance is a must for any party rental company.  Beware of the companies offering super cheap deals.  There is a good chance they won't have the proper type or amount of insurance.  Circus Time takes pride in its safety and training procedures.  They have spent years working with insurance companies to develop a system to ensure the safety of clients at all times.
Safety is a high priority: Circus Time is a company that cares about safety first.   A system is in place to inspect equipment before and after each use.  All employees and delivery people understand the proper way to set up and maintain the equipment for maximum fun and safety.
Circus Time doesn't only rent inflatable bounce houses. When it comes to a special event, everyone wants a little variety.  A great party rental company will have a diverse variety of games to offer.  Games like inflatable slides, interactive games, sports games and more.  Whether it's a theme party, corporate event, or festival, a variety of games and equipment ensures that all ages can have a great time.
So, it's easy to choose the best inflatable rental company in New Jersey if you follow these simple tips.  Don't just watch for the cheapest company.  Choose an experienced company that will make sure your party is the best it can be.  A great company like Circus Time that offers safety, variety, great customer service and years of experience is exactly what you need.