It's April 1st and we finally feel like we're headed into spring. This is the best time of year to start planning your company picnic. Why? Because the BEST company picnics in New Jersey should include a lot more than just a few games. Everyone knows how much inflatables can add to a corporate event, but have you considered the excitement a mechanical bull can bring to a company picnic in New Jersey?
Please don't worry that mechanical bulls aren't safe. They've come a long way from the bull that was originally shown in "Urban Cowboy". Not only are mechanical bulls safe, but they're actually a lot more exciting than the original that was seen years ago.
This new era of Mechanical Bulls (or bucking machines) aren't just for adults either. Children as young as five or six can safely enjoy a mechanical bull ride. But don't think that makes it too easy for that "wannabe' cowboy. He'll get a wild ride himself… and it's very likely he will be thrown off quicker than he thinks!
The trick to a safe rodeo bull ride is to have a trained operator. The operator needs to be trained, not just in the safety and mechanicals of your mechanical rodeo bull, but they need to understand your event. A skilled operator can offer a fantastic ride to any age participant, but still keep the traffic flowing so that everyone gets his or her chance at a ride.
There are a few things you will want to consider before renting a mechanical bull. The first thing you'll want to make sure of is that your bull is a mechanical bull multi ride unit as opposed to the old hydraulic unit. There are safety features on a multi ride bull that just aren't available on the old fashioned, hydraulic bulls.
· Make sure the your mechanical rodeo bull comes with a trained operator
· The mechanical bull ride should have a "safety switch". This switch will automatically shut the bull off immediately when the rider falls off. This is another reason not to use a hydraulic bull. Since hydraulic bulls can't stop on demand, many riders get some nice bruises when they get hit by a moving bull after taking a fall from the ride
· An inflatable mat is very important, not just a pile of straw.
· Last but not least… make sure your mechanical bull provider is FULLY insured by a reputable underwriter.
Most mechanical bull riders enjoy competition and they'll keep coming back again and again so make sure you take this into consideration when you're making your party plans. You might want to only allow one ride per person until you make sure everyone has had his or her chance for a challenging ride.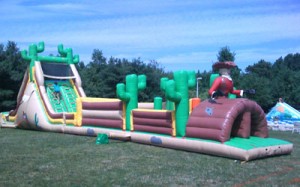 Consider your rodeo bull rental a great opportunity to have a theme company picnic! Offer a western type barbecue, complete with our Kids Corral, Grand Canyon Slide or Western Round Up Obstacle Course.
Get your imagination going and do something different this year. With a New Jersey mechanical bull rental, your company picnic is sure to be a hit! Circus Time Amusements can help you with each step of your planning. With their help, you can plan a picnic that your employees will talk about all year long!
If you'd like more info on renting the best mechanical bull in New Jersey, Circus Time will give you all the help you need. Check them out and get the safest & most popular mechanical bull for your next event!