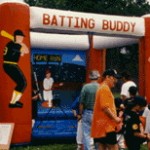 A time of great significance in the lifespan of a 13-year-old Jewish boy is their Fall/Winter Bar Mitzvah Entertainment Ideas in New Jersey/New York . It is a time of transition where one goes from childhood to adulthood. The Bar Mitzvah is most often marked by a celebration with friends and family. Regardless, if you are planning a small simple affair or a large-scale bash, there are all kinds of activities that will make the Bar Mitzvah a lot more fun.
Themes for the Bar Mitzvah: A great way to add a little spice to your event is to choose a theme. When you plan on having a large number of guests a theme can be the easiest way to make the celebration geared toward the kids who are in attendance. Once you establish a theme, it is much easier to choose the activities you wish to include. And Circus Time offers a HUGE variety of themes. Carnival, Sports, Western….you name it and we can make your theme spectacular!
The Party Favor: A party favor is a great addition to any Bar Mitzvah that children attend. You can even choose to make them more interactive. One excellent idea is to hire an artist who does caricatures. That way each guest can take home a caricature to commemorate the event. You can also choose some great photo novelty ideas, such as a photo booth, flip photos or event magazine cover photos with Green Screen.
Age Appropriate Activities that Fit the Season:
Fall/winter activities can be a bit more difficult unless you have a venue that caters to larger games. But, no matter the venue, there are some great games that work for indoors too. How about Ba-Skee-Ball which is a great combination of 2 all time favorite games. Or maybe Alien Autopsy. This giant version of the classic operation game is always a HUGE hit.
Sports Games and Rides for Kids and Adults:
Whether it's batting, boxing, golf or mechanical bull riding. Sports games are guaranteed to make your Bar Mitzvah an event to remember forever! Just think outside the box and take advantage of some of the great games and rides that are available in the NY/NJ area.
If you want the best Bar Mitzvah ideas, make sure to call Circus Time Amusements. Their on staff event planners can take the stress out of planning the perfect event!