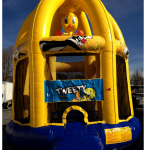 When it comes to fall and winter holiday entertainment ideas in New Jersey, the list of ideas can be very short due to the harsh fall and winter weather conditions in the mid-Atlantic region. However, indoor holiday entertainment for kids and adults has never been easier in the years since Circus Time Amusements has been in business. Having been in business since 1986, Circus Time has always been known for their fun, outdoor entertainment options, but now, there are just as many opportunities for fall and winter entertainment indoors as well.
Bounce houses are extremely popular among kids and adults alike and even though they are known to be most popular during the warm months, the bounce houses and bounce combos can be brought indoors. Convention center, meeting hall, and gyms are all large enough to hold a fully inflated bouncer, which makes it a perfect addition to holiday birthday parties, Christmas parties, church events, corporate entertainment, and even family reunions.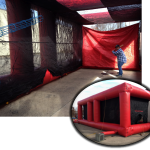 In addition to the bounce houses, Circus Time also offers a wide variety of inflatable obstacle courses that can be used for the same purposes as the bouncers. These courses are not only perfect for fall and winter holiday entertainment options but they also offer a fantastic way for kids and adults alike to get exercise in during the cold, fall and winter months. These courses range from a boot camp, a clown town, a goofy gator, to even Pharaoh's Tomb.
Some of the most popular and fun options for fall and winter holiday entertainment ideas are also perfect for corporate entertainment and business parties. These include batting cages, bouncy boxing, an indoor bow and arrow challenge, field goal challenge, golf arena, human football, as well as many, many more options.
In addition to all the fall and winter holiday entertainment options mentioned above, Circus Time offers a host of other great entertainment ideas. For the coolest of holiday parties, there is a candy wall that has room for 15 different candies. In this same category, you can also rent a cotton candy machine, a hot dog cart, funnel cake equipment, and even an inflatable bar for the perfect adult or corporate party. Through Circus Time, you can also rent some of the classic carnival games, fun photo booths, and arcade and table games. Circus Time is definitely the place to go for all your indoor fall and winter holiday entertainment needs.
For more information on the great line of Circus Time Games and Rides, visit their website at http://circustime.net.