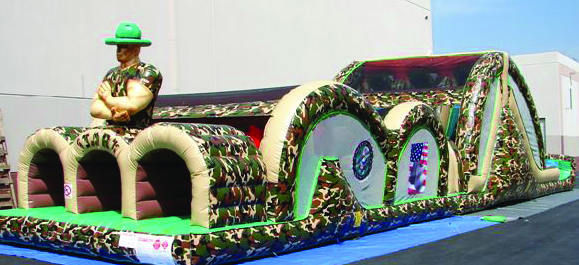 There are many companies all over Pennsylvania that provide the option of renting tables, chairs, linens, silverware, and even casino tables for corporate parties. It is the time of year for picnics and company outings. Why not take your corporate event to the next level? By looking into a professional PA party rental company you can rent virtually anything and everything you need for the perfect corporate event in Pennsylvania.
As you first start searching for a party rental company that handles corporate event entertainment in PA you will find that there are many to choose from. Depending on the theme of your event, you can rent virtually anything you need to entertain your guests. You can rent inflatable products that appeal more towards kids & teens, but you can also get unique games, rides and other entertainment items.. One of the oldest and best companies in the area is Circus Time Amusements. They have a wide variety of games, rides, obstacle courses, and inflatable products that appeal to people of any age.
If you are looking for inflatable rentals in PA you have come to the right place. Some of Circus Time's inflatable bouncers and slides that are perfect for your corporate event range from character themed bouncers to generic automobiles and animals. With the Jungle Bounce, kids from 3 years old and up can enjoy a full-on jungle experience. They can bounce through jungle adventures or go on a safari. This will provide kids hours of fun. The bouncer itself measures at 15'L x 15'W x 16'H and you will need an 110v line located within 100 feet of the bouncer.
Another great product this Pennsylvania party rentals company has that will work great for any event is the Sports Combo Bouncer. This is one of the most popular products that Circus Time Amusements rents out for these types of events. It provides your child with a combo experience of an obstacle course and moon bounce all in one. It also includes a stair climb and slide. It measures in at 18'L x 19'W x 15'H, is perfect for children ages 3 ½ years old and up, and requires a 110v line located within 100 feet of the obstacle.
In addition to your traditional bouncers, Circus Time also offers inflatable obstacle courses providing both kids and adults with hours of fun. With its large variety of themes to fit any crowd, one fun choice is the Boot Camp Obstacle Course. With this amazing inflatable piece of entertainment, your guests can make their way through a three lane obstacle course where they race against two opponents to finish the course. With skinny holes to jump through, inflatable pillars and walls to climb, this provides the ultimate simulation of a boot camp experience. The Boot Camp Obstacle Course is a great way to make team building a part of the corporate event experience.
When looking for PA party rentals for your next corporate event check out Circus Time Amusements at http://circustime.net and take a look at everything they have to offer. Not only will you get the best deals on the greatest party activities, but you will be sure to wow your guests providing them with non-stop entertainment.