Fall definitely an exciting time of the year. The leaves change color and fall, the fruits ripen and football games are part of the exciting atmosphere. This short season between summer and winter has an awful lot to offer! There really is a lot more to fall than just raking the leaves. Fall is really a great time for outdoor celebrating. And there are TONS of things you can offer guests if you want to plan a unique and exciting event.
Now is the perfect time to do something really different. A simple bonfire in the backyard with kids gathering around the fire and roasting marshmallows is a great bonding time with the family. How about hiking and biking as you go pass by the picturesque views of fall?
Here are some simple, yet fun things to do for fall that we found in an article from About.com.
Looking for fun things for your teen to do this fall. Print this out and give it to your teen. For more fun fall activities for teens, see our 12 Week Series: Fall Activities for Teens.

Drink apple cider.
Make a friendship bracelet and send it to your friend.
Start or update a checking account.
Plan a Harvest Party.
Plan a Halloween Party.
Plan a fun filled trick with friends.
This is not entirely applicable to teens alone. Every family member can do these things to add fun to the most awesome time of the year – Fall! Here are other ways to enjoy fall that are suggested by the same article:
7.  Hike a rail trail and check out the fall foliage.

8. Ride a trail on a ATV.

10. Make a leaf rubbing.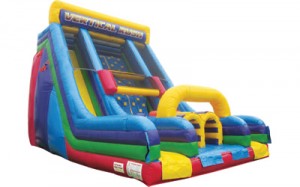 With these simple yet fun things to do, Fall can be a very special time in our lives. Use it as a great time to build memories.Of course, if you are preparing for a birthday party, a family cookout or bonfire or perhaps you have been put in charge of planning a Fall Corporate Event, you might want something totally different from suggestions in the above articles.
Circus Time Amusements
gives you all the right answers for your fall entertainment needs. Since most fall events take place in the big outdoors, you can really offer some extravagant types of entertainment. Circus Time has a ready place in every type of gathering, whether big or small. Why not experience the ultimate rush this Fall with Circus Time Amusements Vertical Rush. It's a Rock wall, a vertical slide and an obstacle course in one!
Want another suggestion? If the weather isn't quite so great, why not hang-out with friends and play electronic darts with a good round of drinks! The classic Mechanical bull ride continues to thrill and riding is as exhilarating as the real bull! It spins and bucks and provides you a different kind of high! One great thing about the bull is that, depending on the size of your venue, it can generally be used indoors as well as the outdoors.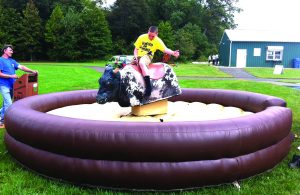 If you're lucky enough to have a great Indian Summer, you can also re-live summer fun with the Surf the Wave Inflatable Slip and Slide! You can do anything you want this fall when you utilize the help of the largest full service amusement rental company in the tri-state area. Circus Time offers over 25 years of entertaining and making people happy. With Circus Time Party Rentals in New Jersey, you can guarantee "a fun experience in a safe environment."