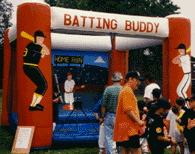 Description:
Self-contained batting cage tests the skill and coordination as the ball attached to a rope spins around in a circle. Batter swings away to the automated pitching machine while listening to 1 of 22 different computerized voice responses.
Dimensions: 12'L X 12'W X 14'H
Recommended Age: 5yrs  to Adult
Electrical Req.: (1) 110v line w/in 100ft.