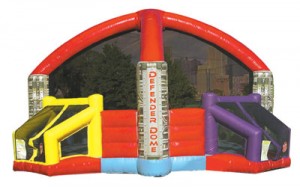 Description:
Four players face off in the fastest moving inflatable game ever created. Throw as many dodgeballs into your opponent's goals while defending your own! You can also play basketball with the built-in hoops.
**Not available to rent in NJ
Call 800-923-4386 or Email for a quote.
Dimensions: 34′ Diameter x 18'H
Height Req.: 42″ min. (approx. 5 to 6 years old) to play dodgeball
34″ min. (approx. 2 to 2 1/2 years old) to bounce and shoot baskets
Electrical Req.: (2) 110v lines  w/in 100ft.