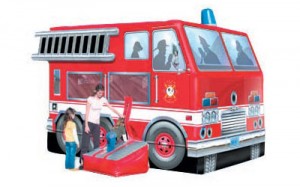 Description:
Fire Truck bounce will bring a 5-alarm  fun to your next event. Kids will be burning up with excitement when they see this bounce that actually looks like a real fire truck.
*Not available for NJ rental
Call 800-923-4386 or Email for a quote.
Dimensions: 12'9″L x 13'7″W x 10'5″H
Height Req.: 34″ min. (approx. 2 to 2 1/2 years old) -Max. Height-60″
Electrical Req.: (1) 110v line w/in 100ft.