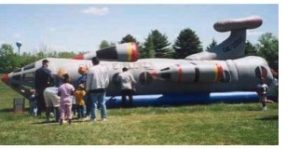 Description:
Three! Two! One! Take-off! This spaceship is full of craters, caverns, spikes, tentacles. Walking on it's inflated floor, kids are sure to have an out-of-this-world experience.
*Not available for NJ Rental
Call 800-923-4386 or Email for a quote.
Dimensions: 40'L X 12'W X 11'4″H
Height Req.: 60″ tall & under (best for children 10 and under)
Electrical Req.: (2) 110v lines w/in 100ft.