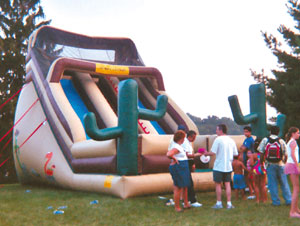 Description:
Slide down our giant double lane slide western style. But watch out! Don't get pricked by the giant inflatable cactus on the bottom.This slide is great for big crowds for it really keeps the line moving faster than our single lane slides.
Call 800-923-4386 or Email for a quote.
Dimensions: 31'L x 17'W x 25'H
Height Req.: Min. of 36″ tall (approx. 3  years old)
Electrical Req.: (2) 110v lines w/in 100ft.