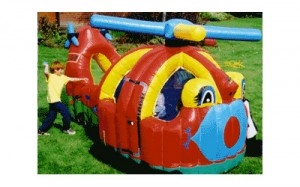 Description:
Up to 5 children enter into this helicopter equipped with a twirling, twirly bird design and plenty of colorful plastic balls creates something special for the small child.
*Not available for NJ Rental
Call 800-923-4386 or Email for a quote.
Dimensions: 12'L X 7'W X 7'H
Recommended Age: 1 to 6 years
Electrical Req.: (1) 110v line w/in 100ft.