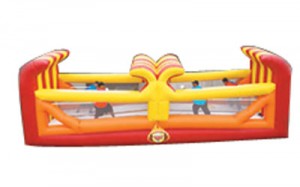 Description:
Teams of 2 dash to pass their balls thru the holes of netting in the center of the arena. The team with the least amount of balls wins. The Kicker? You and your opponent are attached by a bungee cord, so you are in a constant tug-a-war!
*NOT AVAILABLE FOR RENTAL IN NJ
Call 800-923-4386 or Email for a quote.
Dimensions: 32'L x 11'W x 10'H
Electrical Req.: 1 x 20amp lines of 110 volts with in a 100ft of setup location
Height Req.: min 44″-max 76″
#Operators: 1 CT Staff Required and 1 Customer volunteer