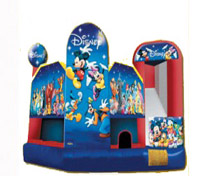 Description:
Jump around in Disney Playhouse Combo Bounce with Goofy, Snow White and Mickey. This colorful licensed combo Disney playhouse includes a bounce area, obstacles, a stair climb and a slide.
Dimensions: 18'L x 21'W x 15'H
Height Req.: Min. of 40″ tall (approx. 3 1/2 to 4 years old)
Electrical Req.: (1) 110v line  w/in 100ft.