Bounce houses make a great addition to any party or event.  Kids will be entertained with hours of fun while they burn that energy – which is a benefit to any parent!  But inflatable bounce houses aren't all the same If you want a bounce house for your party or event check out some of these great options:
Balloon Typhoon
Balloons are whirling around in this air filled bounce house.  It will hold up to six children at once.  While playing inside the children can enjoy the elements of color, coordination, touch, and motion.
Bounce and Slide Cars Speedway
With this fantastic slide and bounce house combination kids can really put the pedal to the metal!  All kids love the Disney Cars movies and getting an opportunity to play in a fully decorated bounce house and slide makes it even better.  Inside the bounce area kids will find two slides and tire obstacles where they can enjoy hours of fun and play.
Castle Fun Center
This Castle Fun Center is a child's play fantasy come true!  It is full of areas to bounce on, many obstacles, and tunnels.  There are also two slides, tunnels, and climbs for your child to have fun experiences on.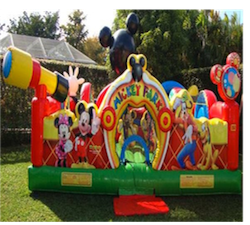 Circus Town
This classic bounce house is just perfect for your pre-school aged child.  It is the ultimate experience in circus fun to little kids to enjoy.  Toddlers can mingle and play for hours in this fun circus setting.  It comes with a slide and three small cubicles where kids can play and jump around.
The Crazy Maze
Up to eight children at a time can explore the 100 feet of full adventure.  This bounce house has extra large viewing panels that create the perfect set up for hide and seek.  Kids will love playing with this wonderful bounce house.
The Mickey Park
The Mickey Park is a fully licensed learning club!  It is the perfect way to bring learning into an active fun environment.  Young people will be able engage in three different games that are educational.  These games are a activity shaping event with Mickey Mouse, color matching in the oversized ball pond and shape counting with Goofy.  The loveable Disney characters pop up in 3D dimensions all around the bounce house.  The 3D artwork is just amazing for the Mickey Park.  It adorns the walls of the bounce house for a unit that will keep them coming back for more fun!
For more information on great bounce house rentals in New Jersey, visit the experts at http://circustime.net.