You are planning a major party and are simply searching for the one missing puzzle piece that will make everything complete. You have thought about it time and time again, considering to yourself exactly what you should do or what you should buy. As you think about the last time that you had a thrilling experience or enjoyable time at a party, you might think of water parks and swimming pools. This is one of the main reasons why inflatable water slides in Burlington, NJ have become so popular in recent years. The question, though, is "Where can I find one?"
Finding a Great Deal on a Slide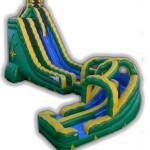 After you have determined that you are interested in renting an inflatable water slide (and you certainly will want to rent a commercial slide that is built to handle your activities), the very next step that you need to take is search for the very best deal that is competitively priced. There are quite a few different options that you can choose from throughout Burlington, NJ. However, you need to keep in mind that quality & safety needs to be the number one priority when it comes to investing your hard-earned money into this type of rental.
When it comes to ordering any type of water sport or water activity, forgetting the need for high-quality equipment can put the lives of your invited guests at risk. This is one of the main reasons why there are so many customers that have trusted in the high-quality products and services of Circus Time.
Why You Should Choose Circus Time
In addition to building a solid reputation within this particular industry in New Jersey for quite some time, Circus Time has been able to remain competitive with low-quality prices for high-quality products. By trusting in the quality line of inflatable water slides that Circus Time has available to rent, you will be able to make sure that your party has the very best and safest slide available on the market.
The superior level of quality customer service also comes in handy as well primarily because of the simple fact that the staff will work very hard to meet the needs and exceed the expectations of each interested customer.
The Bottom Line
Even though there are quite a few options that you can choose when it comes to finding a great deal on renting inflatable water slides, your best bet will be to make sure that you invest in a high-quality yet competitive deal from Circus Time.
For more information on inflatable games from Circus Time, visit http://circustime.net.