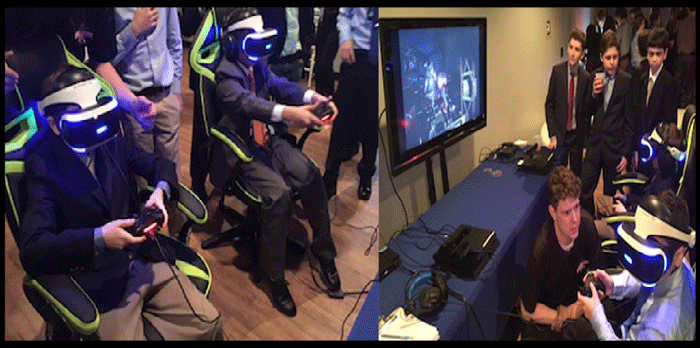 Description:
We invite you to experience a brand new way of video gaming. Pop on the goggles and get immersed into the video world.  Its 3D audio technology makes sounds sharper and clearer, while the advanced VR display creates an incredibly lifelike gaming experience. Choose 1 of 3 Games: Drive Club; Until Dawn; and, Battlezone (see game descriptions under more info tab).
Setup Includes:
2 PS4 consoles, 2VR Goggles, 2 Gaming Chairs, 2 TV's and 2 Headphones for amplified sound.
Call 800-923-4386 or Email for a quote.
Game Descriptions:
Drive Club– Experience the wild rush of high-octane VR racing from behind the wheel of the most powerful, high-end cars on the planet. Race alone or with opponents. Choose your vehicle, the country and course and hop into your car and choose 1o f 3 views.
 Until Dawn: Rush of Blood– Strap yourself in for the most exhilarating rollercoaster ride you'll ever take! As your car begins on its rail journey, your goal is to aim your bb guns at either the stationary or moving targets and shoot. Hurry, because if you miss your targets, your game is over!
Battlezone-Sit inside your very own tank. Select your desired difficulty and duration, then the game generates a board of hexagonal tiles. Each tile is a mission, which means you can–to an extremely limited extent–choose what you play as you make your way from the starting point to the eventual final stage. Along the way, you can stop off at supply station tiles to purchase new weapons with the currency you earn in-game. But there's a risk: every time you move to a new tile, your enemy's power increases, eventually spawning one or more nigh-unbeatable boss characters that stalk the board until you beat the campaign