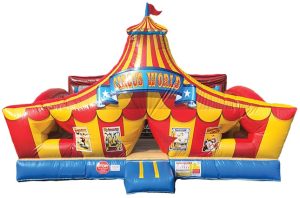 Description: We bring the circus to YOU with our brand new Circus World toddler zone! Enjoy a jump under the big tent- themed moon bounce to explore the circus experience at your next event!
Dimensions: 19'L x 19'W x 13'H
Electrical Req.: 1 x 20amp line of 110volts of electricity within 100ft of the setup area.
Height Req.: min 34″-max 60″
# Operators: 1 person required
Max Occupancy: 8