If you're looking for corporate entertainment NJ style then look no further than Circus Time Amusements. Operating for 25 years and serving not just New Jersey, but New York, Delaware, Maryland and Pennsylvania, these are the guys to call when you want to ensure that your event or party goes with a bang!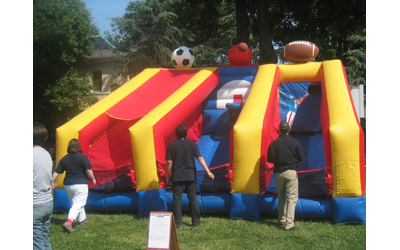 Let's say you've been put in charge of organizing this year's company fundraiser, party or team-building event and let's just say that you don't want to go down the normal, boring route of a standard dinner, drinks in your local bar or – heaven forbid – karaoke. So what do you do? You call Circus Time and check out their awesome range of inflatables, games, food and activities.
Whether you're arranging an event for adults only or it's a family affair, your guests will love these party rentals NJ style!
And if you don't have loads of space to spare, don't despair: Circus Time has something for every event, big or small, indoor or outdoor, traditional or cutting edge.
Children invited? No problem. The adults can have fun playing old school arcade games such as Pacman or letting their competitive side run wild with foosball, electronic darts or pool while the kids can fill up on sticky treats from the candy shop, cotton candy, popcorn or snow cone machines and then bounce around to their hearts' content on one of the fun range of inflatables! Of course, plenty of adults might want to fill up on some of these fun foods too!
Or maybe you fancy taking it back to the good ole' days when entertainment was so much simpler and usually came made out of wood? In that case you'll love the carnival games on offer: hoop toss, throwing bean bags into the clown's mouth, fishing for rubber ducks, crazy mirrors – even a cow milking contest game. Don't worry, the cow isn't real!
If you have the room why not get physical and check out the range of party rentals NJ that folks will be talking about for months to come? We're talking inflatable mazes, obstacle courses, basketball hoops and even an inflatable boxing ring. If you've got the room, it's time to get active!
For corporate entertainment NJ seeking event organizers who may prefer something a little more sedate, how about a photo booth or a make-your-own wanted poster? Circus Time can even put your face on a bobble head, key chain or in a snow globe – a perfect reminder of your fun night.
A corporate entertainment NJ located event where teenagers are invited can prove a little trickier. Too old for bouncy castles but too young for an inflatable bar (no matter how they might beg you for just one beer) perhaps something creative will keep them entertained. Candle making, stuffing your own teddy bear or applying glitter or fake tattoos should keep even the most hard-to-please 14 year old happy for a while. And if you have the room? Why not add a mechanical bull. The teens will love it, as will the adults!
So if any of this has got you raring to plan your next event and you're looking for reliable party rental company in the NJ area and tri-state-wide, the only other thing you need to know is that Circus Time Amusement will personally deliver and set-up your rentals. They have staff that are trained as industry standard RCMT's (that's a Recognized Certificated Maintenance Technician, don't you know?) and what's more they'll even smile and pass the time of day with you while they're blowing up your inflatable Sponge Bob Squarepants.