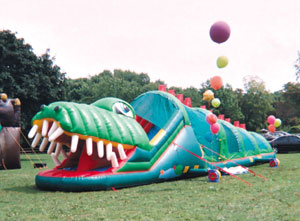 Description:
Climb into the tail of this friendly goofy gator obstacle course & race over, under and through all the obstacles to the end where you climb up and slide out of his mouth.
*Not available for NJ Rental
Call 800-923-4386 or Email for a quote.
Dimensions: 54'L x 11'W x 13'H
Height Req.: Min. of 36″ tall (approx. 3 years old)
Electrical Req.: (2) 110v lines w/in 100ft.