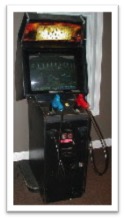 Description:
This upright arcade is a target shooting game for one or two players that pits a task force against a terrorist group.
Call 800-923-4386 or Email for a quote.
Dimensions: 29″ W x 34″ D x 72″ H
Electrical Req.: 1 x 20amp lines of 110volts of electricity within 100ft.