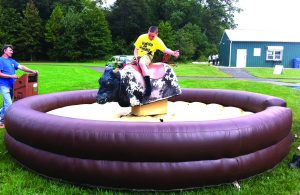 Description:
Saddle up! How long can you last!?  As the bull bucks and spins you around.  Besides having fun, safety is our priority! Our bull is equipped with a soft rubber head and horns as well as has an automatic cut off switch so when you fall off into the inflatable arena it automatically stops.
Call 800-923-4386 or Email for a quote.
Dimensions: 16′ diameter
Height Req.: min 48″- max 80″
Electrical Req.: 1 x 20amp lines of 110volts with in 100ft from where the bull is setup.
#of Operators Req.: 1 CT Attendant Required