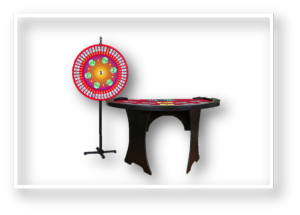 Description:
The Money Wheel is perhaps the simplest casino game to play.  Place a wager on the number of your choice, the dealer then spins the Wheel, and the number on which it stops is the winning number. All bets must be placed before the dealer spins the Wheel. You bet on as many numbers as you wish.
Standing Table only.
Funny Money available for an additional charge.
*For Entertainment Purposes Only*
Call 800-923-4386 or Email for a quote.
Dimensions: 36″H, 6'Table used
Player Capacity: 7 players