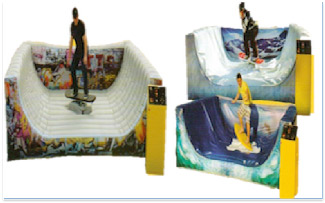 During the company picnic planning process, we hear from planners quite often who are trying to decide whether to have their New Jersey Company picnic in a hosted location like an amusement park, or whether to plan activities and a venue specific to their company needs.  That's always a good question.  Here are some of the criticisms we have heard in past years from corporate event planners about going to an amusement, water or theme park.
We held our company picnic in an amusement park last year.  It seemed like everyone took off and did their own thing.  Others were really unhappy because their kids wanted to do activities not in the package.   Some people didn't even come because they found out some of the activities weren't included with our corporate activities.
Some of the women HATED the idea of wearing a swim suit the year we held our company picnic at a New Jersey water park.
Parents couldn't relax and let their children run and play.  The area wasn't contained enough.
Our food wasn't nearly the quality that we expected.  It was just amusement park food and we weren't impressed at all.
The carnival games were extra and winning plush animals was next to impossible.  We liked our picnic better last year when their were midway games set up that all the kids could plan and win.
Our employees felt that the attraction lines were way too long.  Kids were frustrated because they didn't get to do all the activities.
Drinks were way too expensive as were all the food items.  Once we left our specific area, there was a cost for all additional refreshments.
There is a big reason why Circus Time Amusements is the #1 Company Picnic Provider in New Jersey, New York, Pennsylvania, Delaware and Maryland.  .  We understand the issues with amusement parks and we strive to give our clients great activities, but in a controlled environment that allows every one to have a good time.
Here are just a few of the things you can expect with a Circus Time Amusements Company Picnic:
Everyone enjoying each other's company, with great activities chosen by the company that everyone will enjoy.
The opportunity to hire your own catering company that will serve the food that you know your employees will love.
A unique carnival games area, set up for your employees and their families.  No outsiders and everyone will get to play.
A true "team building" type of event that encourages your employees to get to know one another.
All costs are set up front.  Employees just show up to have fun, nothing extra is charged.
YOUR COMPANY will be the only client at your event and everything we offer will be done especially for you.  No one will be more important to Circus Time than your employees and their families.
Circus Time doesn't just offer basic company picnics.  We plan our picnics around your desires.  We offer:
Activities for all ages from toddler to teens
Unique Games and  Rides like the The Xtreme Board Combo, the Kongo Crazy 3 Lane Slide  and the newest hit this year – Redneck Games!
Team Building Activities like the Water Dodge Ball and the Ultimate  Survivor
Your own Carnival Midway
Mechanical Rides that will WOW your guests
If you're planning a company picnic in New Jersey or surrounding states, give us a call.  Our professional event planners will help you lay out exactly what you want for your big day!    A company picnic should be all about you and your employees and that's exactly what we give you.  Let us show you what a Circus Time Amusements Company Picnic can be for you!  Vist our website at http://circustime.net