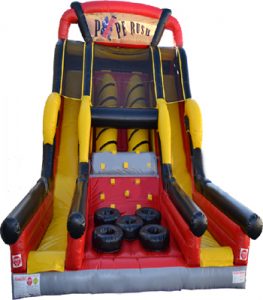 Description:
The Ultimate Challenge! Participant will begin stepping through our tire shaped obstacles, then up the climbing cubes, and unique pipe shaped stairs to the top, finishing down the slide!
Call 800-923-4386 or Email for a quote.
Dimensions: 30'L x 20'W x 22'H
Electrical Req: 2 x 20amp lines of 100volts of electricity with in 100ft.
Height Req.: min 36″
No. of Operators: 2