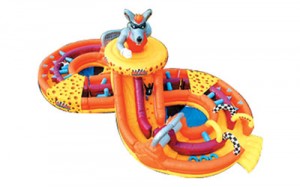 *NOT AVAILABLE FOR RENTAL IN NJ
Description:
Two participants race in opposite directions in this figure eight obstacle course to see who can make it to the finish line first and become the Big Cheese!
Call 800-923-4386 or Email for a quote.
Dimensions: 58'L x 30'W x 24'H
Height Req.: Min. of 42″ tall (approx. 5 years old)
Electrical Req.: (3) 110v lines w/in 100ft.