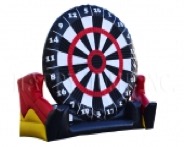 Description:
Enjoy the challenge of kicking a velcro ball onto the velcro dart board, kids as well as adults will have an amazing time battling to get the highest score by kicking the ball to hit the highest scored.
Call 800-923-4386 or Email for a quote.
Dimensions: 10'W x 15'L x 20'H
Electrical Req.: 1 x 20amp line of 100volts with in 100ft of electricity.