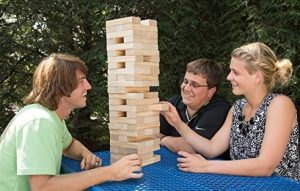 Description:
A game of skill. Build the tower, take turns to remove a piece and add it to the top without making the whole tower tumble.
You must determine the right movements to destabilize the tower and hope your opponent takes the fall. With 58 solid wooden blocks, Giant Jenga builds from approximately 3 feet 6 inches at the start of the game, to 5 feet maximum in play.
Dimensions: Each Block Measures 8.25 inches x 2.75 inches x 1.75 inches, can grow to 5'Tall
Call 800-923-4386 or Email for a quote.