Will Photo Booth Rentals Add Excitement to Your Next Event?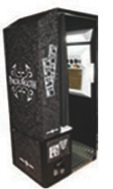 While hosting an event or a party it is important to keep people of all age groups busy and entertained. Many companies host special events and parties for employees and their families. Most of the time kids get bored in such events and start getting cranky. They tend to throw tantrums and start crying too. Parents are forced to leave the event  as soon as possible. Therefore, while hosting an event it is important for the event managers to keep in mind that they should dedicate some time to planning games and entertainment for the kids.  Of course, kids come in all ages so at times, it can take some work to find the right type of carnival ride or amusement  to make everyone happy.
Most events these days want some kind of special attractions for different age groups.  Whether it's a birthday party, shopping mall promotion, company picnic or even a wedding, special attractions can make all the difference in a successful event.  Many events have specific areas where games are set aside just for kids.   Games may include various types of carnival rides, giant inflatable slides or bounce houses and sports games.
Photo Booth Rentals Are Great for All Ages
But, sometimes it's important to have entertainment for all ages.  That's where the photo booth rental comes in.  Photo booth rentals add excitement to any type of event and it's something that everyone loves…from small kids to the elderly.  Many of us remember the strip photos in the malls when we were young and a nostalgic photo booth rental is a great way to remind everyone of simpler days.
Photo Booth Rentals Are Really Special for Weddings
One new trend that has come about in the past 5 years is the addition of a strip photo booth at a wedding reception.  This type of photo booth rental works well for bar mitzvah's also.   Photo Booths at these type of events offer something for everyone.  With strip photos, the guest keeps one for himself and the other strip goes into a memory book for the host!   Since the good photo booths are very easy to operate, this is a low maintenance way to do something that everyone will remember for a long time.
There are many firms offering photo booths, games and temporary game booths for rental. One such name that is trusted is Circus Time Amusements, Offering Photo Booth Rentals in New York, New Jersey, Pennsylvania and surrounding states.   Here, one can find interesting amusement games and photo booths available for rent. Safety and security measures are given top most priority. Circus Time has years of experience in choosing games and rides that are not only fun, but safe too. For best parties and events you'll absolutely want to choose Circus Time for your amusement games and photo booth rentals. Click on the link below for more information and details.