Description: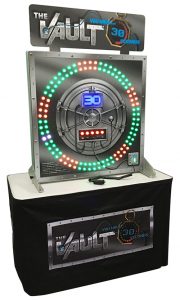 Get your thumb trigger ready! Do you have the speed to keep up with the moving lights? Choose from 1 of 4 difficulty levels, then you have 30 seconds to stop the orbiting White lights on the Red lights. Progress through all 5 rounds to Win!
Call 800-923-4386 or Email for a quote.
Dimensions: 4'H x 3'W (does not include dimensions with table)
Electrical Req.: 1 x 20amp line of 11ovolts with in 100ft.