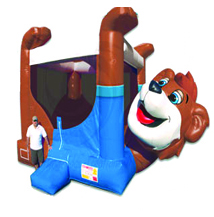 Description:
Ever want to bounce on the belly of a bear? Here's your chance!  Everyone LOVES the belly bouncer!
Call 800-923-4386 or Email for a quote.
Belly Bouncer Dimensions: 16'L x 22'W x 14'H
Height Req.: Min. of 34″ tall-Max. of 60″ tall
Electrical Req.: (1) 110v line w/in 100ft.