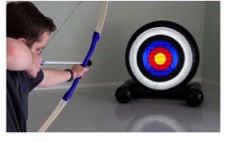 Description:
Aim, draw, release! An archery game like no other; use your bow and velcro arrow to aim for the bulls eye on the inflatable target!
*Comes with Safety Goggles.
Call 800-923-4386 or Email for a quote.
Dimensions: 42″L x 66″W x 64″H
Age Req.:  All Ages
Electrical Req.: 1 x 20amp lines of 110volts of electricity w/in 100ft of setup area.
No. of Operators Req.: 1