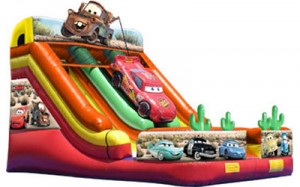 Description:
This licensed Cars Double Lane slide will bring fans from Carburetor Country running. Kids can climb up the center tunnel, which is topped off by a three-dimensional Lightening McQueen, and then choose a side for a speedy ride to the cushioned bottom. Mater, the fun-loving truck sits atop and 3D cacti flank the end of each racing-inspired slide.
Call 800-923-4386 or Email for a quote.
Dimensions: 27'L x 19'6″W x 21'3″H
Height Req.: Min. of 40″ tall (approx. 4 years old)
Electrical Req.: (1) 110v line w/in 100ft.