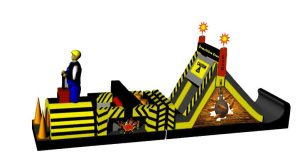 Prom night is a night that everyone remembers for the rest of his or her life.  A good event planner will want to make your post prom event one that will never be forgotten! An after prom event serves two purposes. Of course it adds to the fun AND it can keep prom goers from making bad choices that can ruin lives. Studies have indicated that young adults that are given positive choices for after prom fun will take those choices. And you can have a post prom to remember by making just one phone call.
A lot of parents and school groups are at a loss as to what they can do for an after prom party. Circus Time has the answer. Your prom goers can have a great time in a fun safe environment. This is the perfect way to offer an alternative to the other after prom activities.
Just like after prom events, project graduation activities should be fun. No one wants to attend a post prom or project graduation event that is boring with the same old activities. These events are a big deal and the night should be a magical night. Circus Time can easily bring the magic needed for that perfect event!
Circus Time Brings the Fun to You
You supply the venue and Circus Time provides the fun. Imagine the fun a photo booth will bring to the event. Arcade games? Circus Time got them. Circus Time offers an opportunity for non stop fun. There are so many options to choose from that are an ideal way to make the post prom event THE EVENT of the year.  The most difficult part of the task will be limiting yourself to your favorite pieces.
Tiki Bars that serve smoothies, games, the new extreme board combo introduced in 2013, mechanical rides and other popular fun your post prom event will be a blast! Before you make your post prom event plans check out what Circus Time can bring to your event!
About Circus Time Amusements
www.circustime.net will allow you to view all the fun offerings that are available for your post prom event and project graduation party.  It is all about the choices. You can easily find everything that you need that will fit in your budget at www.circustime.net.
Circus Time has been in business since 1986. By providing high quality equipment that is always the latest trend and by making sure that your project graduation post prom event is one that is always remembered Circus Time has a trail of loyal customers. Circus Time is committed to fun!  Serving post prom events and after graduation parties in New Jersey, New York, Pennsylvania, Delaware & Maryland, Circus Time is proud to be part of these activities for over 25 years.