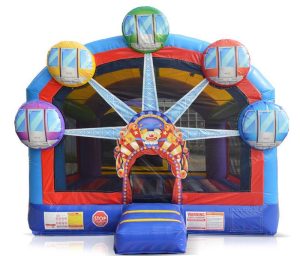 Description: Add this ferris wheel-themed moon bounce to your next party! Jump inside and experience the fun with this beautiful carnival piece.

*For larger crowds, check out our Ferris Wheel Combo Bounce!
Dimensions: 15'L x 15'W x 13.3'H
Height Req.: min 38″-max 60″
Electrical Req.: 1 x 20amp line of 110volts of electricity within a 100ft of setup area.
# of Operators: 1 required