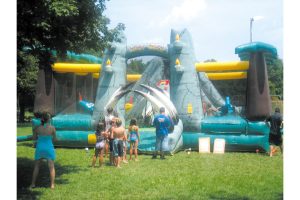 Description:
Climb thru the teeth of the Jurassic Adventure moon bounce & make your way to a prehistoric adventure. Bounce with the dinosaurs, climb up the rock wall & make your way down one of the two slides in this deluxe play unit.
Call 800-923-4386 or Email for a quote.
Dimensions: 24'L x 29'W x 15'H
Height Req.: Min. of 36″ tall (approx. 3 years old)
Electrical Req.: (2) 110v line w/in 100ft.