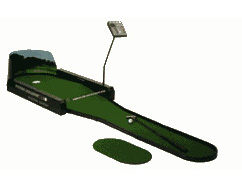 Description:
Putting fun with our electronic green. The game announces player's turns, hole number, average putts per player and even cheers hole-in-ones. Ball automatically returned every time. 72 electronically changing contours. Four 18-hole courses on two skill levels (2 Amateur and 2 Pro). Patented sensor system keeps score of every player.
Call 800-923-4386 or Email for a quote.
Dimensions: 11'L x 3'W (area needed)
Electrical Req.: (1) 110v line w/in 100ft.