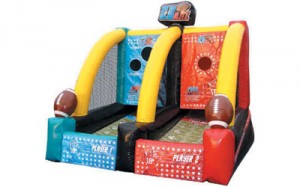 Description:
Set! Down! Hike! Test your throwing accuracy against a friend. When you throw a football through one of the targets the ball transfers into your opponent's lane. The person who has the least amount of balls in their lane at the end of the time is the winner.
Call 800-923-4386 or Email for a quote.

Dimensions: 17'L x 14'W x 16'H
Electrical Req.: (1) 110v line w/in 100ft.