Planning a carnival type event is always fun.  Especially when you look at all the carnival games in New Jersey available for 2014.  Although everyone loves the old standards, some of the newer games are simply amazing!
How about the "Alien Pinball" game?  Have a blast with this "out-of-this-world" pinball game. Pull a lever and watch as the multi-colored balls go racing through space. The goal is to score the highest amount of points.  This is a great game for all ages.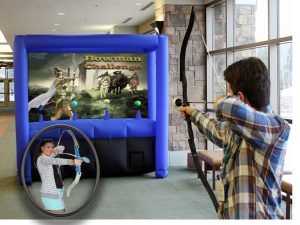 Another really great new game is the "Bowman Challenge".  Although this isn't a traditional carnival game, it's still a game of skill and it's a huge hit wherever it goes.  It's a great way to test eye-hand coordination! Aim the  bow and arrow at one of the hovering balls, shoot and try to knock a ball down.  Bowman Challenge brings a safe way to play archery with its soft tip darts. Fun for all ages, this activity enhances upper body strength and helps develop self discipline.
Ba-Skee-Ball is a  creative game that combines those old time favorites, keeball and basketball. Roll the mini basketballs down the inflatable lane in to one of the colorful slots to score points.
Air Heads  is a zany game that's guaranteed to fascinate the entire crowd.  The goal of the game is to knock down the floating balls that are kept elevated by constant streams of air.  Your guests just won't be able to walk past this one without stopping!