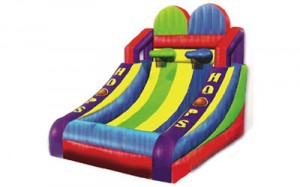 When you think about Inflatables, you often think about small children jumping frantically in a Bounce House, but there are so many more fun inflatables than just Bounce Houses, and they are geared for all ages. Most party rental companies in New Jersey offer bounce houses, but the best ones also offer many other games for everyone in the whole family.
Inflatables have been wildly popular for the last twenty years, and as their popularity has increased so has the number of super fun inflatable products on the market. Gone are the days of just bounce house, made for little children. Inflatables are now made for all ages. There are slides, obstacle courses, water games, and many inflatable sports activities.
Many obstacle courses made for children and adults. Circus Time, which is a party rentals company in New Jersey; offers more than 9 obstacle courses which are super fun. The Ultimate Boot Camp Challenge is exactly what it sounds like…a challenge! What tactics will you use when you jump through your first hole and squeeze through the inflated pillars? Climb the ladder to the top and slide to victory! Feel free to check out the largest assortment of inflatable obstacle courses in NJ by just clicking on the link. http://circustime.net/category/obstacle-courses
The inflatable slide selection includes water slides, giant inflatable sides and even slip n slides that are suitable for children and adults. Some of them are standard slides, and some of them are themed. Circus Time also offers inflatable battle arenas and combo games that include slide, bounce & obstacle courses.
Taking inflatable rental fun to a whole new level, are the sports themed inflatables. There are inflatable batting cages, golf ranges, and basketball goals. Circus Time also offers human foosball…yep…that's right..very quickly your guests can become foosball players. Human Foosball is a team competition where participants play a game of soccer. Five players per team are connected to waist harnesses and ropes extending from both sides of the harness allowing only side to side movement. Maximum players are 10. How fun would human Foosball be at your next company picnic or family reunion?
Circus Time Party Rentals in NJ offer so many fun inflatables for your next event that you may have a hard time deciding which ones to rent. They also offer more traditional rides like a carousel that holds up to ten people, and other mechanical rides. One of their huge hits at every event is a mechanical bull. This ride is always a crowd pleaser. Check them out today at Circustime.net and decide what super cool inflatables you would like to rent for your next family event or work function.