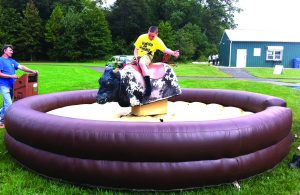 There are loads of great New Jersey Amusements available in 2014.  But renting a mechanical bull in NJ is still one of the easiest way's to guarantee a spectacular event!
You might ask, "Why would I ever want to rent a mechanical bull for my company picnic?"  And you can ask the same question if you're planning a  team building event, Post Prom, Field Day, Spring Fling, Church or School Carnival, etc etc.  Get the picture?  But the answer is easy.  A mechanical bull, or bucking machine is almost the perfect attraction for any type of event.
Most people assume that a mechanical bull is meant for a bar or rougher crowd, but the truth is that the mechanical bull offered by Circus Time is about as safe as it can get.  And the ride can be just as fun for the younger crowd is it is for the older crowd.  You don't have to be a superior athlete to ride the bull either.  Almost anyone can do it.  The hardest part of riding the bull sometimes is just getting on it.
Since the bull is surrounded by an inflatable base for safety, you jump on the inflatable to get seated on the bull.  That's the hard part…once you are up there the fun begins!
Did you think the fun is just for the participant?  No way…a mechanical bull ride is fun for everyone.  Whether you're watching your boyfriend, girlfriend or even you grandma, watching a bull ride is almost as fun as riding a bull yourself.
When you are trying to rent a mechanical bull in New Jersey, you don't want to search by price first.  Although price can be a factor, make sure that you look at safety first.  The bull must be approved by the state of New Jersey.  This in itself will tell you that the company has the proper insurance, but you also want to question the training of the operators running the bull.  Have they been through a training program?  Does the party rental company have a proper maintenance program?  And has the company been around for a long time?  Long enough to prove that they understand you and your guests needs?
At the beginning of every season  you will find new party rental companies that offer these great "deals".  But great deals aren't so great if the company doesn't show up, doesn't train their employees correctly or doesn't have insurance.  So do your homework to make sure you get the right company that puts the safety and importance of your event first.
Circus Time Amusements has a proven history offering Party Rentals in New Jersey.  And they were one of the first to offer mechanical bull rentals in NJ.  Give them a call today, or check out their website to get more information on renting one of the most popular carnival rides in NJ today.