Are you looking for a great way to spice up your party?   Circus Time Amusements is an expert in New Jersey Party Rentals Entertainment…and one way to guarantee fun is to rent a mechanical bull.  Renting a mechanical bull in New Jersey is guaranteed to boost the fun factor at any type of event!  Let's all admit it, every time we go to a party with a mechanical bull as part of the entertainment; the bull is pretty much the main attraction for the crowd.  If you have an unlimited budget, you can actually buy your own mechanical bull, but due to the cost of the ride plus the insurance factor, you'll generally find it to be much wiser to rent a mechanical bull in New York.
A mechanical bull has the  "power" to turn a normal BBQ eat-out to an extremely fun party. While most people used to be intimidated to ride on a mechanical bull because of safety concerns, the fact is that the bulls manufactured today are built with safety in mind and offer a great ride for participants of any age,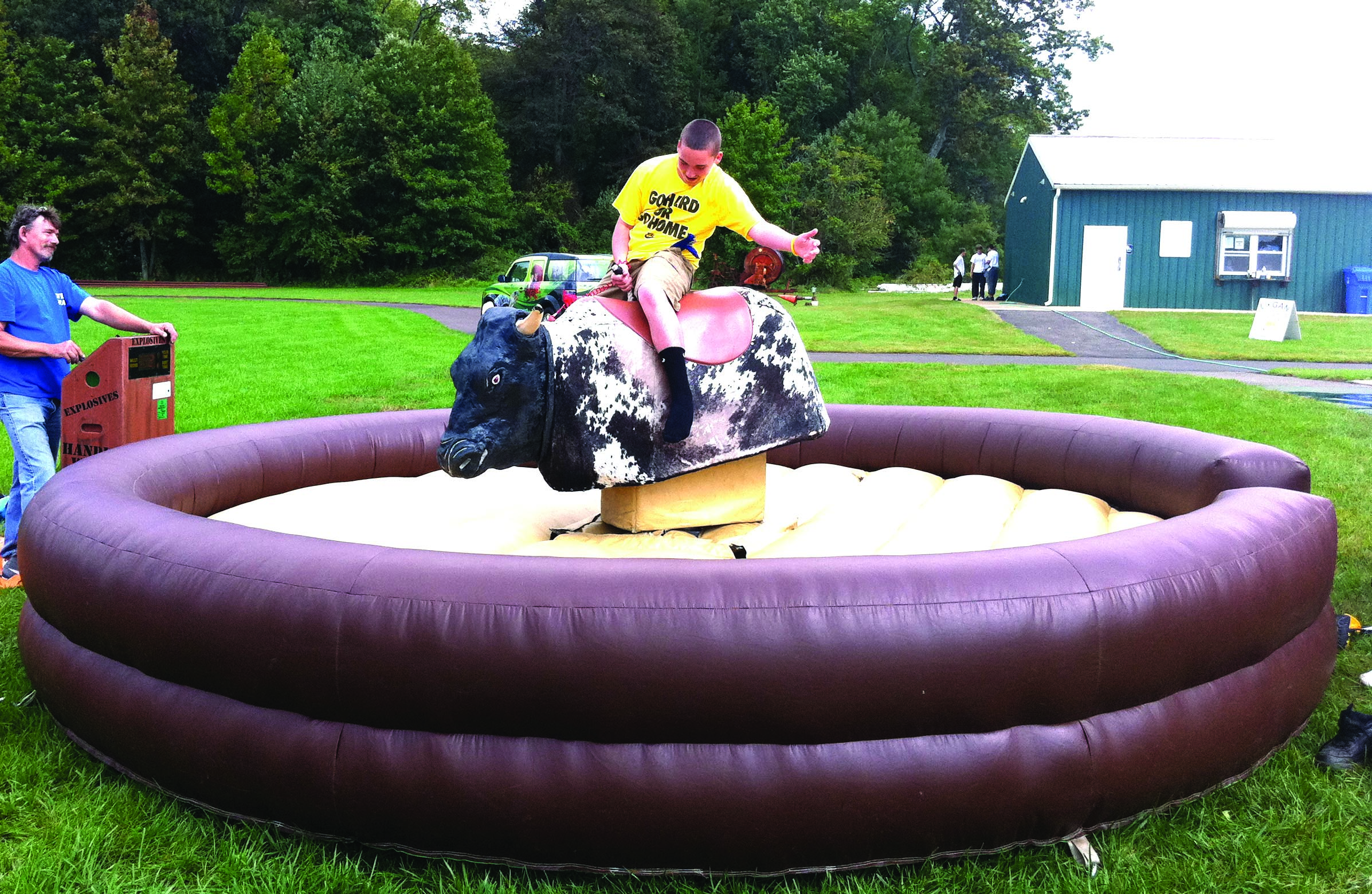 One benefit of renting a mechanical bull in New Jersey, is that the state has guidelines that must be followed before an operator is allowed to rent a mechanical bull.  In days past, many operators wanted to offer hydraulic bulls to their clients.  Hydraulic bulls look realistic but they're hard to control and many a rider was injured at one point by a bull that didn't stop moving when the rider fell off.  The new mechanical bull multi-ride units are built to be safe for all ages.  The ride is surrounded by a huge inflatable and  will stop automatically when the rider falls off, guaranteeing the rider will be as safe on …or off the ride.
Be sure that if you wish to rent out a mechanical bull, it comes with an experienced operator. The experienced operator of the mechanical bull should be able to control the difficulty of the bull according to the level of the player. This means that everyone can enjoy the mechanical bull ride at your party, from novices to experts, in fact, those who have never been on a mechanical bull before can still enjoy the ride.
The biggest problem with a mechanical bull at a event can just be the popularity.  Make sure everyone has a chance to ride once, before allowing riders to try a second ride. Bull riding is so competitive that it can be addictive and everyone will want to have a go at it again and again.
We absolutely suggest a mechanical bull for a spectacular event in New York but just do your homework before renting your bull.  It's not all about cost.  It's about ride value, safety, insurance and the operator's training.  Before renting a mechanical bull, be sure to inquire about the specifications and safety features of the ride. Circus Time Amusements is proud to offer one of the safest and entertaining mechanical bull rides in Delaware, New Jersey & Pennsylvania.   Along with our mechanical bull, Circus Time offers over 300 other attractions.  If you want the best, visit Circus Time:  http://circustime.net.
Make sure to follow Circus Time on Facebook for some more great entertainment tips:  http://Facebook.com/CircusTimeAmusements