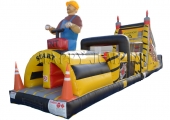 Description:
You better move fast through this explosive one-of-a kind obstacle course or you might get blown up! Two participants race through the safety cones, under the detonator, climb up the wall avoiding the sticks of dynamite and slip down the wrecking ball slide to safety.
*NOT AVAILABLE FOR NJ RENTAL
Call 800-923-4386 or Email for a quote.