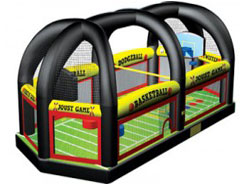 Description:
Satisfy the ultimate sports fan with our all in one sports arena. Enjoy traditional team sports like basketball and soccer as well as volleyball, bungee challenge and gladiator joust. Children can also use it as bounce and shoot baskets. Mesh sides allow for easy viewing.
Call 800-923-4386 or Email for a quote.

Dimensions: 18'L x 38'W x 14'6″H
Height Req.: Min. of 36″ tall (approx. 3 years old)
Electrical Req.: (1) 110v line w/in 100ft.