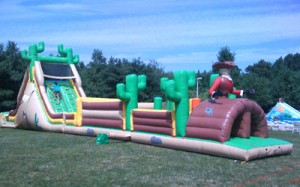 Description:
Howdy Partner! Race through a massive 72 FEET of obstacles on our extended attractive obstacle course which also includes a wall climb and a slide.
Call 800-923-4386 or Email for a quote.
Dimensions: 72'L x 11'W x 18'H
Height Req.: Min. of 36″ tall (approx. 3 years old)
Electrical Req.: (2) 110v lines w/in 100ft.