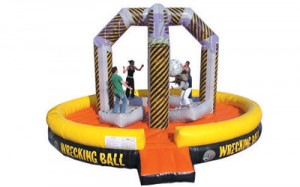 Description:
Balancing atop their inflated pads up to four players attempt to grab and push the swinging "Wrecking Ball" into their opponents, trying to knock them off their pads. The last player standing is the champion.
Call 800-923-4386 or Email for a quote.
Dimensions: 29′ Diameter x 16 1/2'H
Height Req.: Min. of 44″ tall (approx. 6-7 years old)
Electrical Req.: (1) 110v line w/in 100ft.