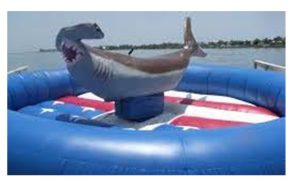 Description:
Can you ride the hungry hammerhead? Don't fall off or you might get eaten alive! Just like the mechanical bull you hop on, hold tight and ride as long as you can without falling off. Our shark has a safe soft rubber head and an automatic cut off switch so when you fall off onto our air inflated pillow the shark automatically stops.
Call 800-923-4386 or Email for a quote.
Dimensions: 16'Diameter area needed

Height Req.: Min of 48″, 300lb Max
Electrical Req.: 2 x 20amp lines of 110volts of electricity within a 100ft.