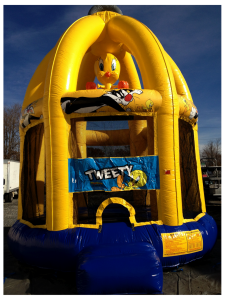 Description:
This licensed Tweety Cage jump is an unusual and fantastic jumper featuring everyone's favorite Looney Tunes birdie, Tweety Bird! The design of this jumper is that of Tweety's actual cage, complete with a carrying handle on top and an oversized, three-dimensional Tweety perched above to watch over all of the fun. The Tweety Cage jumper provides more than 315 square feet of bouncing room, sure to lure in fans young and old, or anyway trying to escape a puddy tat.
 *Not available for NJ Rental
Call 800-923-4386 or Email for a quote.