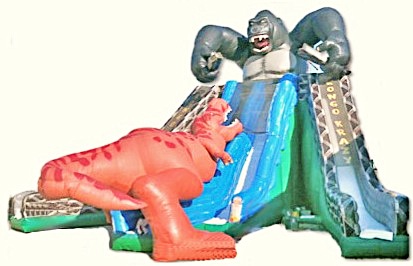 When you're planning an event, a big concern is always going to be the quality of the entertainment.  The last thing you need on event day is to be standing there waiting on games and rides that should have been set up much earlier.  If you've had this happen before, and many companies have, then you know the importance of choosing the right company for your inflatable rentals in Delaware.
So, what should you look for when searching for a good inflatable (or party) rental company? The first answer should never be "The Cheapest." Many disappointed consumers have found out that cheap isn't such a good thing when the items don't arrive on time or as promised.
But, yes, price should be a factor at some point. Here are some recommendations for questions you might want to ask before choosing an inflatable rental company in Delaware.
1) How long have you been in business? Long term is good, and the longer the better. You want someone for your event that has proven they have the longevity to survive in an industry where new companies come and go all the time.
2) Are you insured? It's not enough to hear the answer. Before you make the final decision ask for proof. And if a company is especially cheap, lack of insurance is usually the reason.
3) How are your inflatables maintained? You want to hear that the company has has an equipment safety and maintenance program.
4) What is the best thing about your company? You are looking for 2 answers here with the first being that they put safety first and the second that customer service follows right behind safety.
5) Do you own your own equipment? A company that subs out equipment doesn't have control over everything that happens with your order on your event day. A company that owns everything, will be able to control the quality, cleanliness, safety and delivery of your order.
6) How does your company handle delivery, set up, tear down and staffing? You want a company that has well trained employees that follow specific safety guidelines.
You will also want to find out what kind of deposit they require and ask about rain date policies, etc.
The best choice for inflatable rentals in Delaware is absolutely Circus Time Amusements. With over 25 years in the entertainment industry, they take pride in offering the newest entertainment items for the marketplace each year. Give Circus Time a call and take the stress out of your next event!